The Homewood Heritage is our original model – very popular with people who want a beautiful, functional and efficient quality cast-iron wood stove to cook on, heat their hot water and warm the home.
"The Heart of the Home"
With its large firebox and visible fire, the Homewood Heritage is an attractive and functional double-oven stove that looks great in all settings and is a delight to cook with. It can be built in with brick, stone or tiles; installed up to benches – or looks great free-standing. Get inspired: visit our Gallery page for more photos of real world installations.
Main features: large and attractive firebox; two huge ovens; generous stove top cooking; water jacket for water heating; solid construction; attractive and practical design. Continue reading for full details…

---
Cooking
A Homewood Heritage doesn't just transform the look and feel of a kitchen, it revolutionises how one runs! Gone are the days of forgetting to turn on electric elements or ovens, gone is worrying about gas. Gone is only being able to bake at one temperature at a time in your conventional oven. With the Heritage running anyway to provide you with hot water and a warm home, you can be cooking at your leisure and convenience; your cooking surface and ovens are right there, ready when you are!
The Heritage is easy to operate, gets up to temperature quickly and has excellent heat distribution for consistent cooking performance. The two ovens allow for simultaneous cooking at two different temperatures: you can be doing regular baking in the top oven, while a roast or casserole is slowly cooking the lower!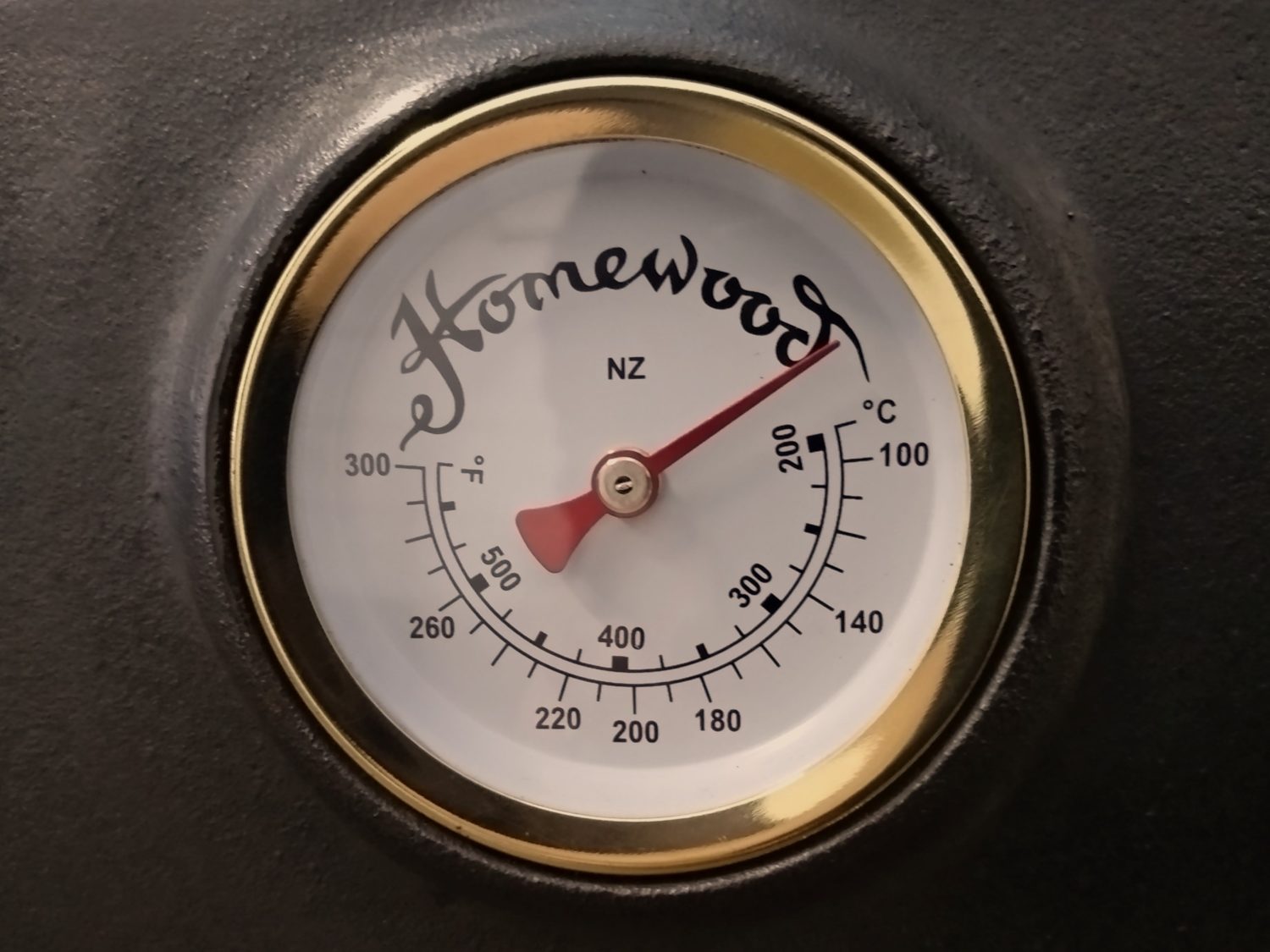 The top oven is very large, with a capacity of 82 L (450 mm wide, 365 mm high and 500 mm deep – approx. three cubic feet) for serious cooking. All oven panels are heavy cast iron for superb heat retention and even distribution. The oven door has a double-glazed, safety-grade glass window with an external guard-bar: so you can check up on your baking without having to keep opening and closing the door. The top oven door also has a thermometer for reliable temperature readings, in both Celsius and Fahrenheit. The top oven has six tray positions. In normal use, this oven will be sitting around 180 – 200 C, though it can be allowed to run cooler, or pushed hotter, to suit.
The lower oven runs at three-quarters of the temperature of the top oven so in normal use will be sitting around 150 C – great for slower-to-moderate cooking: puddings and desserts, casseroles, slow roasts and stews! It has a capacity of 49.5 L (450 mm wide, 220 mm high and 500 mm deep – approx. 1.75 cubic feet), and four tray positions. With the door ajar it can also be used as a very slow oven, a heating drawer, or even to dehydrate fruit.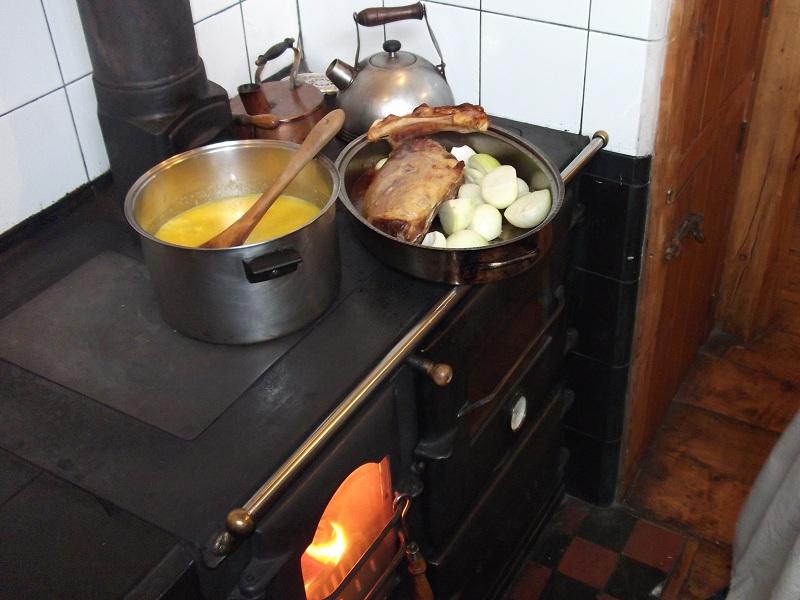 The Heritage's cooking plates are made from heavy cast iron, machined smooth for optimal pot and pan contact and maximal heat transfer. There are three plates at differing temperatures, which means any time your stove is running you have instant access to variable heat: left for boiling, searing and getting things going, then moving right for gentler stovetop cooking, simmering and keeping things warm. The very large surface area allows for the use of plenty pots, pans and kettles all at once (Penelope often has five or six pots in simultaneous operation!).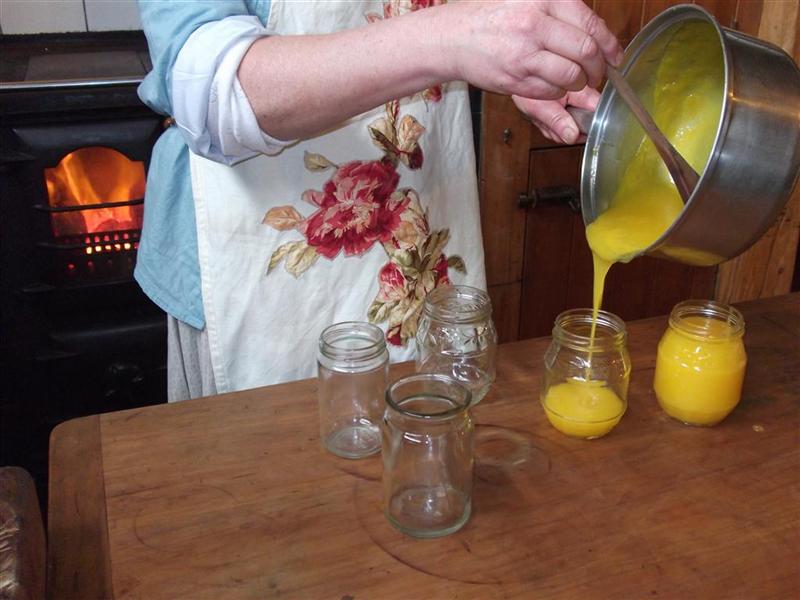 You can see some classic Kiwi sweetcorn fritters (straight out of the good old Edmonds Cook Book!) being cooked on the stove top in this video:
Or some plain white buns being baked in the main oven here:
See our Recipe section for more examples of Homewood cooking and baking. If there's something specific you'd like to see made on a Homewood, please get in touch – we plan to start doing plenty more cooking videos!
---
Operation
The Homewood Heritage is extremely easy to light, gets up to cooking temperature quickly (kettle boiling in 10 minutes from lighting, oven up to 180 C in 30 minutes or so), and is capable of running overnight.

Maintaining a Heritage is straightforward, and they always come up looking great after a polish or a season!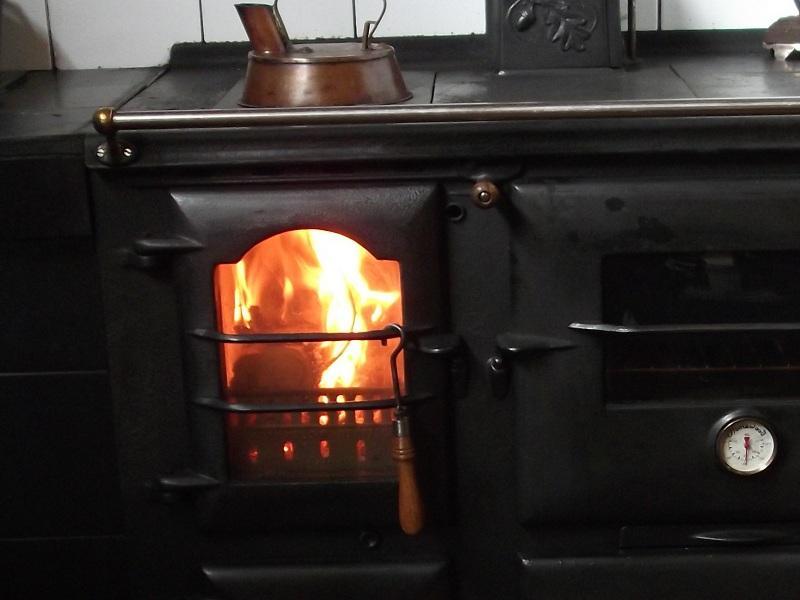 There are three easy-to-use stove controls. Air intake is managed by both the top air control: a sliding vent above the firebox door that drops air down the face of the glass, primarily used to regulate how cleanly your fire is burning and helps keep the glass clean during start-up; and the lower air control: a rotating cap on the ash compartment door that introduces air which blasts up through the grate and really drives your fire.
The flue bypass lever is used to divert air directly up the flue when lighting the fire, and is then switched over once the flue is hot (and generating draw) to force the hot combustion gas to circulate around the ovens, heating them on its way to the flue. The bypass lever is located next to the attractive flue collar and soot door (with Homewood 'acorn' motif). The flue collar accommodates a 150 mm flue.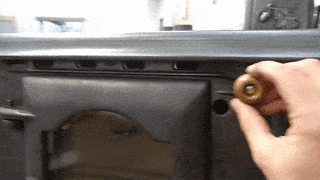 The Heritage firebox door has a double-glazed, high-grade, ceramic glass window, which makes it easy to monitor the fire (no more inefficient heat loss in having to open up your firebox in order to check on what your fire is doing), as well as making the stove an attractive focal point of any home. Large logs (up to 210 mm in diameter and 480 mm long) are easily accommodated: and the stove will keep going through the night if a large log gets added and the air controls closed after it has been allowed to ignite, before retiring for the evening.
The firebox is lined with thick refractory bricks, and the grate and grate upstand are both made from very thick iron. The refractory bricks protect the other components of the stove, while also adding to it's thermal mass. They allow the firebox to reach great combustion temperatures, with their white surfaces reflecting the heat of the fire back onto itself.
At the top of the firebox is a baffle, which performs several functions: it deflects the heat of the fire back onto itself as well, increasing combustion temperatures and improving efficiency; it forces the combustion gases to take the longer way around, for better heating of your cooking plates; and it is also attached to a secondary air intake pipe. This secondary air exists so that your fire does not choke and die when the two air controls are closed, and has the added benefit of introducing (pre-heated) air slightly beyond the main combustion chamber for a secondary burn effect: allowing anything that might not have fully combusted in the firebox another opportunity to ignite when it comes into contact with the pre-heated oxygen, further improving efficiency and aiding clean-burning.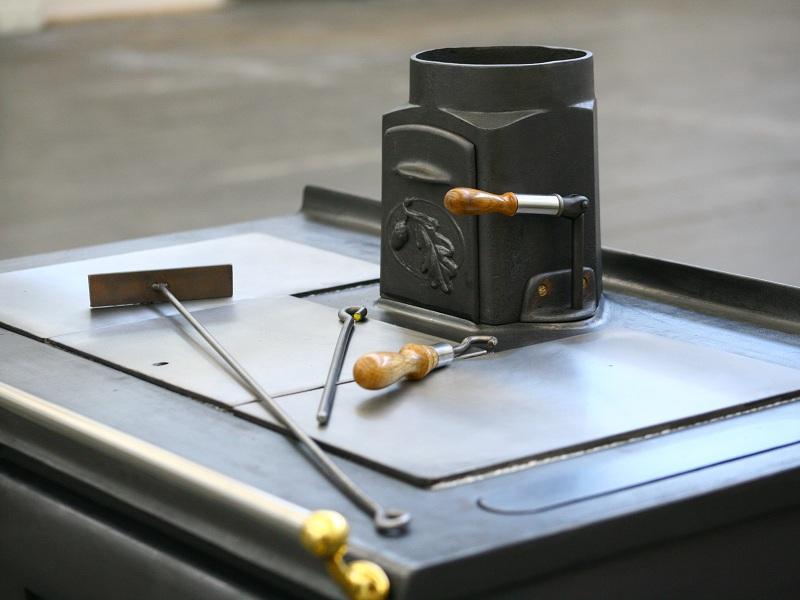 The cooking plates are easily removable for cleaning, and the stove also has two cleaning ports that enable full access to everywhere around the oven that the combustion gases circulate when required (many owners clean their Heritage only once every six weeks or so – we recommend monthly!). The spacious cleaning ports allow the provided poker and cleaning tool unrestricted movement for cleaning. The ash pan is large, so requires only infrequent emptying (Penelope says she only empties hers about every 4 weeks – ash can be a great addition to your garden or compost!).
Want to get a head-start on wood stove operation? Download an electronic copy of our Operating Manual and get yourself up to speed!
---
Specifications
| | |
| --- | --- |
| Total weight: | 400 kg |
| Overall size: | 1025 wide by 870 high by 620 mm deep |
| Top oven: | 82 L (450 wide, 365 high by 500 mm deep) |
| Lower oven: | 49.5 L (450 wide, 220 high by 500 mm deep) |
| Firebox: | 43 L (265 wide by 345 high by 475 mm deep) |
| Firewood: | up to 460 long and 210 mm in diameter |
| Ash pan: | 19 L (250 wide by 170 high by 450 mm long) |
| Flue: | 150 mm diameter, 4.2 m min. length recommended |
| Water jacket: | 4 – 5 kW *can be fitted with higher output! |
| Heat output: | will heat a well-insulated area of up to 150 m2 (10 – 12 kW) |
Full installation specifications available from our downloads page.
---
Customer Feedback
We just wanted to let you know how the stove is going. FANTASTIC. Yes, we should have had one in ages ago. David, thank you so much for creating such a wonderful piece of practical beauty. It really does create that 'wow!' factor when people see her. We put a comfy chair by her and ever since it has been a three way tussle as to who gets there first. Cat hogged it all winter, then standard poodle would take over and sometimes David would be allowed it at night. Through winter it was wonderful at night to have no TV and just sit by the fire.

She made many hearty soups this winter. Have noticed that the hobs and oven are more forgiving when cooking. Things will happily tick over for ages on the Homewood, but try it on the electric stove and you've burnt something or it's boiled dry.

So thank you so, so much for the stove: it really has become the heart of our home.

Jean & David – Timaru, South Canterbury
>>>>> …Read more testimonials here!
Needing help figuring out if this is the right Homewood for you? Here's a handy compare and contrast of our various models!
---
Video
Check out the stove in action! Discover the original Homewood Heritage with David and Penelope in this informative video, filmed in 2010:
You can also see this very same stove, 10 years on, in this video about managing unwanted heat over summer, filmed in 2020:
---
Ordering
NZD$15,600 + GST; includes stove, water jacket, stove tools, three oven racks and three oven trays. Does not include freight or flue (flue kit requirements vary house to house).
ORDER NOW – click here for full ordering information.
---
More information:
Ordering your Homewood
Customer Feedback
Frequently Asked Questions
Get in touch with Homewood Stoves
Stove Models