The Homewood Companion is the smallest and most affordable stove we currently produce. The Companion suits those with less space or a smaller budget, yet still has all the qualities that make a Homewood something worth owning: highly-functional, great to look at and of solid, high quality construction.
"The Little Stove that Can"
The Companion is able to be installed with or without it's feet – making it a suitable replacement to go into pre-existing alcoves and on brick plinths. Get inspired: check out our Gallery page for more photos of real world installations.
Main features: spacious single oven; big firebox; visible flames; two cooking plates; wetback for water heating, elegantly curved legs; detailed cast-iron. Continue reading for full details…
---
Cooking
The biggest functional difference between our Heritage and Companion models is that the Companion is a single oven stove. This means it will suit smaller households, or those people who are less fussed about being able to bake at two different temperatures at the same time. You're still able to do those slow roasts by running a gentler fire for a slow to moderate oven, or bake bread and cook pizza on a hot-to-fast oven by pushing the fire along more – just not both at the same time!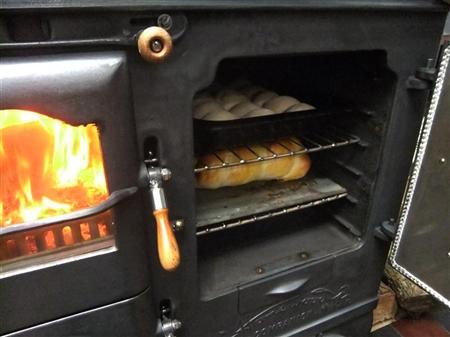 The oven is still very generous, especially for such a compact stove, and clocks in at 58 L (350mm wide, 365mm high and 455mm deep – approx. two cubic feet). Like in our other models, all the oven panels are heavy cast iron for maximum heat retention and even distribution, and the oven door has a double-glazed, safety-grade glass window with an external guard-bar and an accurate thermometer, in both Celsius and Fahrenheit. The oven has six tray positions.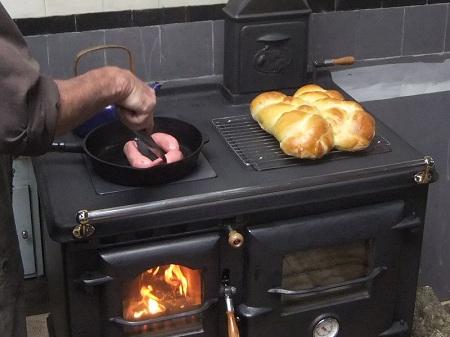 The two cooking plates of the Companion are made from heavy cast iron, machined smooth for optimum pot and pan contact and maximum heat transfer. The left hand cooking plate is directly above the firebox, so is ideal for searing, frying and boiling. The right cooking plate is still close to the firebox due to the size of the stove, so has a heat deflecting panel on its underside, to increase the available temperature range.
While it won't hold as many pots or pans as the Heritage, the Companion is still able to have several on the go at once, and though it lacks the third, coolest plate of the Heritage, simmering can still be achieved by using a trivet on the right hand plate.
Check out the oven of the Homewood Companion in this video, and please see further down the page for even more video of the stove in action:
If there's something specific you'd like to see cooked on a Homewood, please get in touch – we plan to start doing plenty more cooking videos!
---
Operation
Check the Operation section of the Heritage page, as all of that applies here – though the flue collar on the Companion takes a 130 mm flue, and the Companion firebox can take decent logs up to 165 mm in diameter and 400 mm long.
Even with its smaller firebox, the Companion is still able to run through the night, by putting as big a log as will fit onto a well-established bed of embers and shutting down all the controls.
Want to get a head-start on wood stove operation? Download an electronic copy of our Operating Manual and get yourself up to speed!
---
Specifications
| | |
| --- | --- |
| Total weight: | 300 kg |
| Overall size: | 875 wide (895 at the front legs) by 855 high by 580 mm deep |
| Oven: | 58 L (350 wide, 365 high by 450 mm deep) |
| Firebox: | 28 L (235 wide by 285 high by 420 mm deep) |
| Firewood: | up to 410 long and 175 mm in diameter |
| Ash pan: | 12 L (210 wide by 130 high by 450 mm long) |
| Flue: | 130 mm diameter, 4.2 m min. length recommended |
| Water jacket: | 3 – 4 kW |
| Heat output: | will heat a well-insulated area of up to 125 m2 (8 – 10 kW) |
Full installation specifications available from our downloads page.
During development, we were mindful of the many people with beautiful-but-deteriorating old NZ-made coal ranges needing replacement (Shacklock, Nicholls Brothers, Champion and similar), so the Homewood Companion has been designed to fit into most of the existing spaces used for these older stoves (see installation specifications for full dimensions).
The Companion's legs are optional, so instead of being free-standing, it can be installed on a concrete or brick plinth – pre-existing or otherwise.
---
Customer Feedback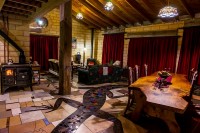 "We treasure our Homewood Companion which looks very impressive in our kitchen. It not only cooks and heats our water [680 L!] very effectively, it also keeps the house nice and warm. We find we need no other heating even with our very large living space. We believe this stove will retain it's elegance and functionality for many decades.
We love it."

– Rob and Marijke, Kaiwaka
>>>>> …Read more testimonials here!
Unsure if this is the Homewood for you? Learn more in this helpful compare and contrast of our various models!
---
Video
Check out the stove in action! Discover the Homewood Companion with Zak and Janie (and family!) in this demonstration video:
---
Ordering
NZD$11,200 + GST; includes stove, water jacket, stove tools, two oven racks and two oven trays. Does not include freight or flue (flue kit requirements vary house to house).
ORDER NOW – click here for full ordering information.
---
More information:
Ordering your Homewood
Customer Feedback
Frequently Asked Questions
Get in touch with Homewood Stoves
Stove Models