Your Guide to the Export Process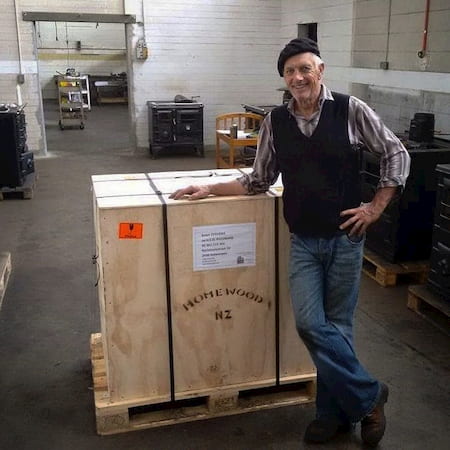 If you live outside of New Zealand, are in love with what we do and are desperate for your very own Homewood, this article is for you!
Para leer este artículo en español, haga clic aquí.
Pour lire cet article en français, cliquez ici.
Para ler esta página em português, clique aqui.
Um diesen Artikel auf Deutsch zu lesen, klicken Sie bitte hier.
Per leggere questo articolo in italiano, fai clic qui.
この記事を日本語で読むには、ここをクリックしてください。
Or just click here and select your own language from the list on the right – you may find this kind of thing useful for reading the entire site in your native tongue!
Back in early 2016, we sent out our first export. At the time, our website still said we didn't export at all, but thanks to this customer's enthusiasm and persistence we properly explored the possibility, and ended up sending a Homewood Heritage directly to their nominated port. I remember how shocked I was to learn how inexpensive sea freight could be: it cost less to send that stove all the way from our workshop in Whangarei, New Zealand, to the port in Antwerp, Belgium, than it does to truck them to some of the more remote destinations in NZ's South Island!
In terms of any larger scale distribution: we do not have any international dealers, wholesalers or retailers, and while properly bringing our stoves to the rest of the world in a larger way is certainly in our long-term plans, we are still not yet at a point where we are ready for this. It is worth noting that we only ever sell direct within New Zealand too.
The process is not as complicated as you might think, and now that we have gone through it multiple times to various destinations, I can give you a very good idea on what to expect.
---
Things to Consider First
Safe installation/authorisation: our stoves have been tested for safe installation under a shared New Zealand/Australian standard only (and you can find the resulting installation specifications that show clearance distances and shielding requirements [if there is combustible material within the clearance distances] on the downloads page of our website), so you should find out how that might work for you in terms of your local rules/regulations/authorities, and/or home insurance.
They are not tested under any EPA regulations, or any European standards, or anything else like that – AS/NZS 2918 only. For those of you in the USA, all our models meet Washington State's definition of what constitutes a cookstove, and WA has the strictest criteria of all the States:
Wood-fired cook stoves that are used primarily for cooking must have the following characteristics to be exempt from emission testing:

– A device for measuring oven temperatures
– A flame path that is routed around the oven
– A soot clean-out door below the oven
– An oven with a volume of 1 cubic foot or greater and an oven rack
– No fan or heat channels used to dissipate heat from the appliance
– A cooking surface measured in square inches or square feet that is 1.5 times greater than the firebox
– A portion of at least four sides of the oven will be exposed to the flame path during the oven heating cycle, while a flue gas bypass will be permitted for temperature control
– An ash pan

Department of Ecology – State of Washington, 'Wood stove & other home heating > Wood-fired cook stoves'
Which it's just as well, seeing as cooking stoves are what we are all about!
International water plumbing differences: there is an expectation here in New Zealand that, in addition to cooking and heating, woodstoves like ours will also provide the ability to heat a household's plumbed hot water (that is, the hot water coming out your normal shower, taps, or faucet fittings, not merely some reservoir on the side!). I have learned over the years that this is definitely not necessarily a given elsewhere (though I believe extremely common in Australia also), so this extra and unfamiliar complexity sees many of our export customers opting to skip out on the water heating side of things altogether – at a much higher rate than our local customers.
This type of more sophisticated water heating involves a passive (no pumps!) thermosyphoning system, where pipework communicates in between a copper water jacket unit (known as a "wetback" here in NZ/Australia) within the firebox your stove, and up to a large elevated storage vessel (what we call a "hot water cylinder") from which your household hot water plumbing then runs. You will see fairly brief reference to these considerations, based on our New Zealand and Australian regulations, in the Installation Specifications already mentioned above, and found on our downloads page.

I have put together a resource on this website, Heating Water with Fire that explains in much greater detail how these kinds of systems get set up in New Zealand. If water heating is something you want to do with your Homewood in your country, I strongly encourage you to read that article in full, and to work out what needs to be adapted specific to your local area, in advance of committing to it. Set up properly, it is a beautiful and elegant thing, and incorporating the water heating aspect turns an already impressive machine into a self-sufficient powerhouse, particularly in off-grid settings!
However, if you (and/or your plumber!) lack the confidence that you understand what is involved, and/or how to navigate possible regional differences in thread standards (adaptors do exist), pressure setups, storage vessel availability, plumbing norms and/or local regulations, then don't worry: it is completely possible to order your stove "dry", without this ability.

No warranty: while we offer a very solid guarantee to customers here in New Zealand, we cannot do the same outside of NZ, as we simply do not have the presence overseas that would allow us to do any kind of international servicing (much as we'd enjoy the excuse for a holiday!). To make up for this lack of guarantee, we do send your stove off with a full spare set of the expected consumables (see the next point) at no extra cost though, and of course are always available for remote service advice and guidance. In the unlikely event you ever need to buy any irregular spare parts over-and-beyond these, they will always be available from us.
Extras included: with all international orders, we include a full set of the consumables (the parts that are expected to degrade over time in normal use, and so are not covered by our NZ guarantee anyway). These include: a full spare set of refractory bricks; a full spare set of all glass rope seals; extra catch fittings; an extra baffle. We also include a spare pane of firebox glass.
Pricing: we sell our stoves in New Zealand Dollars. As exchange rates are fluctuating all the time, you should keep an eye on the relationship between your local currency and the NZD. When the NZD is weaker against your currency, this means your stove will become more affordable, but if the NZD gets stronger against your currency, our stoves will become more expensive.
Even when the exchange rate is most favourable, you may well still have smaller, cheaper, local alternatives: we are a small family business, handcrafting these stoves to the highest quality in our boutique operation here in this remote corner of the world. Something mass-produced in a larger country with lower costs of doing business is almost certainly going to be cheaper, if price is your main consideration.
Please see this foreign exchange calculator at ASB – this is our bank, and as we will be receiving your payment through them, it is their exchange rates we use. Input the current NZD cost of the Homewood model you are interested in to the right hand "This converts to ____ NZD" field, and select your local currency on the "Currency I want" field, to see what it is going to cost you in your currency.
Sales Tax: all our domestic sales within New Zealand incur GST (Goods and Services Tax – currently +15% sale price), but we do not charge this on international orders. Before you get too excited however, if your local country or state has any kind of VAT or Sales Tax, you'll likely be charged that by your own government, as applicable, as part of the importing process.
Avoiding hidden charges: we will be completely transparent about what it is going to cost you for the stove, and the freight to get it to your country. But we cannot advise you on costs that may be incurred once it arrives at your end. We take care of getting the stove from our workshop to your nominated port (this "port" may be what's known as an in-land port – a customs-controlled area within your nation that freight gets transported to via train or truck. For example, vast majority of NZ-to-USA freight arrives via Longbeach, CA, but that doesn't have to be as far as I quote it to, if you're on the opposite side, it can then travel further via freight-train, and still be considered "sea freight"); all export costs/sea freight/insurance/etc covered in the freight charge. Once at the destination port, though, it becomes your responsibility to both arrange and pay for the importation (and as above, your country may have duties/taxes that are collected at this point, in addition to possible import fees, customs clearance charges, and/or domestic freight within your home country). These are known as CFR/CIF Incoterms.
You will want an import agent / customs broker to be handling this part of the process for you, and there is nothing stopping you from getting quotes for this side of things right now, before even approaching us, so you don't get surprised by any unexpected costs later.

Things this agent may need to know:
– you're receiving a cast iron, solid-fuel cooking stove
– entirely manufactured in New Zealand, shipped from NZ [relevant for countries that have free trade agreements with us]
– coming in via sea freight [also known as "ocean freight"], using Mainfreight, LCL [Less-than-a-Container-Load], to your nominated port
– CFR/CIF Incoterms
– approximate value: please see 'Pricing' above on how to put our $NZD prices (ignoring our GST) into your local currency for them
– no need for fumigation: heat treated or plywood packaging only
– HS/HTS codes: this should be 8516.60.40 and my current understanding is that cast iron stoves are exempt from any kind of tariffs [at least in the USA?], but will still of course be subject to your local sales tax, etc – freight agent will be able to completely confirm or clarify this!
– size / weight of the crated stoves for export are approximately: 0.9 m3 / 400 kg for the Companion [with legs]; 1.0 m3 / 500 kg for the Heritage; 1.5 m3 / 750 kg for the Matriarch. Sorry, I'm not great with non-metric units, but don't worry, anyone in international business will be dealing with the metric system all the time anyway!
Please let me know if there's anything else non-obvious that they ask for, and I'll add it to this list.
Australia: for our cousins across the ditch – we use Mainfreight for sending these overseas, and they can offer a 'to-your-door' service within Australia, so delivery may look a little different for you. We can supply you with quotes to either your nominated port or right to your door (switching from CFR/CIF to DAP freight terms). Because Australia and New Zealand share our testing standard, you can also ignore the first point about having to figure out how your local authorities might treat our installation requirements.
Timing: add at least an extra 4 – 8 weeks on top of our lead times for international orders. Sea freight might be affordable, but it's not fast!
---
The Ordering Process
OK, you've read and understood all the things to consider above, and still wish to proceed? Great!
Everything from here isn't too much different to how we deal with sales in New Zealand anyway (all of which are also direct, and for most part we never actually meet the final customer in-person here either anyway, being that we're up near the top of the North Island!).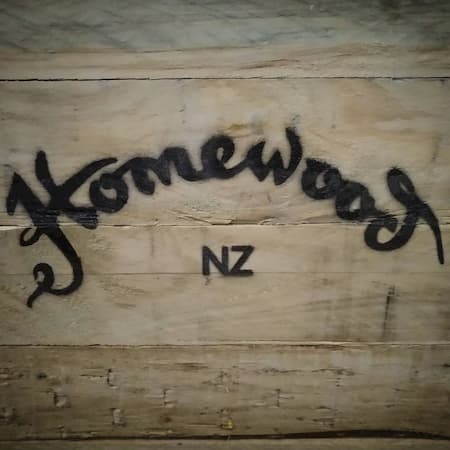 Step One: send an email, letting us know where in the world you are, which model you are interested in, and when you'd ideally like to receive your stove. We will be in a different time zone (GMT + 12) to you, but even still should we get back to you within a couple of working days.
Add us to your safe sender list/address book, and/or check your Junk/Spam folder if it seems like it's taking a long time to get a reply from us. If you're communicating with us in a foreign language, there's a pretty good chance you will get flagged as spam from our end, so if you don't hear back please send Zak a text message on +64 204 077 5318, or you can try phoning us on +64 9 436 0333 between 8 am – 4:30 pm, Mon-Fri, New Zealand time!
Step Two: we'll reply with more details, indicative freight costs, etc. Assuming everything checks out and you wish to proceed, you get added to our Export Wait List, with an idea of timing provided. We do not collect any kind of deposit from you, this waiting list is totally no obligation, and completely risk free.
Step Three: we confirm your order once we get down to you on that list, as we begin work on the batch that includes your stove. I say "confirm" but we still don't actually collect any deposit from you (unlike our NZ customers at this same point), so while you'd be mucking us around a bit by cancelling after this point, it still remains completely possible for you to do so, right up until you actually pay for it in Step Five (say the exchange rate or timing fell unfavourably, or you had a change in life situation).
The reason we waive the deposit on international orders: exchange rates fluctuate constantly, and as there's a lag between starting construction and sending this could cause confusion; international transfers can be fiddly (we provide you with our full banking details to make it possible); banks like to charge fees for both the sending and receiving of international payments (we'll likely each get stung with a ~$10-20 fee at either end!) – all very good reasons to reduce things down to just a single final payment, just prior to shipping [see Step Five].
Step Four: we build your stove. We keep you updated and confirm some of your options as needed throughout the process.
Step Five: once complete, we invoice you for both the full cost of the stove and the freight, and on receiving your payment book in the international freight, crate it up and off it goes.
We provide you with tracking details and export/import documents as these become available, as well as the vessel name so you can even watch the journey across the globe!
That's it from our end of things; though it is important to note that until the ownership of the consignment is transferred across to you (most commonly at the destination port), it remains covered by our insurance in the unlikely event that anything goes wrong with the shipment.
Mainfreight (the company we use), will get in touch as it arrives in your country, and will want to deal with your import agent. Your import agents are the people that handle the customs clearance, import duties/taxes/etc side of things, and if needed, should also be able to arrange any domestic freight within your own country for you. As part of your pre-purchase due diligence it would pay to have your specific import agent/customs broker talk you through that side of the process/provide you with any quotes as relevant.
This might all sound quite daunting (and to be perfectly honest, I do appreciate that you'd have to be very enthusiastic about our stoves to want to go through this process – though if you've read our Feedback page already, you'll know that many people are that enthusiastic about their Homewood!), but if you are in love with what we do, please do take heart knowing that it is all entirely possible, plenty of others have gone through it without issues before you already, and is quite likely more affordable than you might imagine (particularly if the $NZD is weak or your local currency going strong).
---
International Feedback
We actually had one export customer visit us in person while over here in New Zealand on a family holiday and before placing their order, so thought it would be a good idea to reach out to her (seeing as she's in the unique position of both having had the opportunity to visit the workshop/meet us in person/check out what we do and go through the above export process) so she can tell you a little bit about how she found it to deal with us: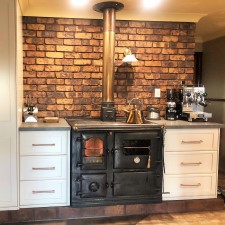 We live on a farm in the Northern Tablelands of NSW, Australia where it is not uncommon for the temperature to reach -10 C during winter and we have the occasional snow fall.

The previous owners who built our brick home had a wood heater in the kitchen to heat both the kitchen and lounge areas. We were looking to update our heater and decided that as we were already running a wood heater why not change it to a wood stove that would also heat our water, run a couple of radiators and we could cook on.

We did a lot of research as we wanted a stove with glass on both the firebox and the oven door (so I could watch the scones rising!), one that had a large water jacket but most importantly we wanted one that would take a large log to ensure that it would burn all day or night as required.

Homewood were wonderful to deal with, and as I hadn't bought anything large off the internet before I actually flew to New Zealand to have a look at the stove before buying it, getting to meet David and Zak in person.

Zak was wonderful and organised virtually everything for us. The stove was very well crated and arrived at our farm over 2,800 km away without a single scratch. The whole process was very easy.

The stove has been running now [July, 2019] for 2 years and is as good as the day we installed it. The food is delicious, the cleaning is a breeze and it has now become the focal point of our kitchen.

I would highly recommend Homewood Stoves and the team; the product is amazing and performs beautifully and the service is impeccable.

Sue & Andrew, Guyra, NSW, Australia
We have sent stoves all over the globe now: Australia (nearly all states, including multiple to Tasmania, and not just mainland TAS either, but out to King Island and Flinders Island too!), some of the Pacific Islands, the United States of America, the United Kingdom, mainland Europe… We will happily work with you to send your stove to wherever you may be.
Please get in touch if you have any further questions about anything export-related, if any of the above needs further clarification or elaboration, and/or you spotted any dead links! We look forward to hearing from you.
– Zak, September 2019